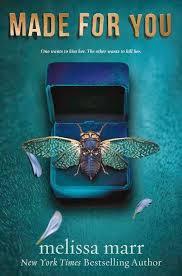 Bestselling author of the Wicked Lovely books Melissa Marr's first contemporary YA novel is a twisted southern gothic tale of obsession, romance, and murder. A killer is obsessed with Eva Tilling. Can she stop him, or will he claim her?
When Eva Tilling wakes up in the hospital, she's confused—who in her sleepy little North Carolina town could have hit her with their car? And why? But before she can consider the question, she finds that she's awoken with a strange new skill: the ability to foresee people's deaths when they touch her. While she is recovering from the hit-and-run, Nate, an old flame, reappears, and the two must traverse their rocky past as they figure out how to use Eva's power to keep her friends—and themselves—alive. But while Eva and Nate grow closer, the killer grows increasingly frantic in his attempt to get to Eva.
For the first time, New York Times bestselling author Melissa Marr has applied her extraordinary talent to contemporary realism. Chilling twists, unrequited obsession, and high-stakes romance drive this Gothic, racy thriller—a story of small-town oppression and salvation. Melissa's fans, and every YA reader, will find its wild ride enthralling.
At long last you are truly back with us…
Zev Hunter was an elite warrior, a dark-blood dealer of death to rogue Lycans who preyed on mankind. He was a loner, never given to personal attachments, and damned fierce at his job. But Zev begins to question his past and his purpose when he awakens in the darkness of the sacred cave of warriors—and is soothed back to consciousness by the sensuously familiar voice of one woman, the woman who has haunted his fantasies for centuries. She was Branislava, member of the Dragonseeker clan…
Mother Earth called the ancients to witness your rebirth…
For this half-mage, half-Carpathian temptress, the ritual of awakening Zev to the council of warriors was the only way to save him. Locked away for his own protection, the time has now come for his rebirth, for his blood to stir with that of the ancient warriors before him. He has been assured by Branislava that their fates are entwined, that their spirits are woven together for eternity and that his new purpose in life is beyond imagining.
Now, with a blood-sworn vow of honor, mercy and endurance, and under the influence of a siren as bewitching as Branislava, Zev begins to wonder what his purpose is, what it means for the future of the Carpathians and what it is about his rebirth that he has to fear…