Wanted: Devils Point Wolves #3
Goodreads gave it 4.07 stars
Allison Fox is on the hunt again. Except this time the werewolf she's been assigned to track is her brother. The search has led to the island of Devils Point and it doesn't take her long to figure out she's hit the mother lode—of werewolves. But when she meets Diego, her world turns upside down.
As mating season comes to a close, Diego is thrown into chaos when he's given the task of interrogating the female hunter who would like nothing more than to kill him. His track record with women sucks and this one is no better. Especially when his wolf stands up and claims her as his mate.
Feed the Flames (Steel & Stone #3.5)
Goodreads gave 4.23 Stars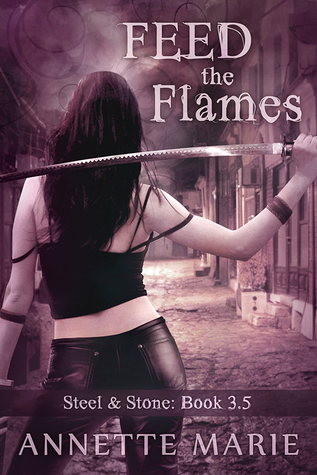 Seiya wants nothing more than to disappear with her brother, safe from all the enemies that would tear them apart. But now she, along with Lyre, has been taken prisoner. Separated from Ash, his fate unknown, and tormented by memories of her imprisonment in Asphodel, she must put her faith in Lyre and his carefully guarded secrets. To have any chance of escape, they'll have to work together to find a way out—before they learn what fate their captors are planning for them.
The Steel & Stone Series:
Book 1: CHASE THE DARK
Book 2: BIND THE SOUL
Book 3: YIELD THE NIGHT
Book 3.5: FEED THE FLAMES
Book 4: REAP THE SHADOWS